When the NBA announced it had reached a global merchandising and marketing deal with NIKE more than two years ago, we all knew it really meant one thing- some dope ass uniforms! With Adidas, the league experienced mixed reviews and several players, most notably LeBron James, complained that the short sleeves on the jerseys restricted movement.  With all due respect to Adidas, they simply aren't NIKE when it comes to uniforms.  And if you're looking for proof, look no farther than Oregon football's uniform schemes. We really like what NIKE is doing so far with the uniforms, as they pretty much have changed the uniform game in the NBA.
First, they decided to actually listen to the players and make the jersey's sleeveless. Now, I know that some players like the feel of sleeves on their arms- VendngMachine founder Darren Smith used to rock the short sleeve underneath the jersey- but it creates a completely different feel if those sleeves are on the jersey and wrap tight around the skin. Secondly, NIKE has done away with the traditional home and away jerseys. The home team will now be allowed to choose from  one of their four uniforms to wear and the visiting team will have to wear a contrasting uniform. And my personal favorite thing that NIKE has done is their decision to include a historic jersey in each team's jersey collection.  These are absolutey heat.  We are talking about throwback Lakers, Suns, Pacers, Hawks, Bucks, Hornets, Warriors, and Heat jerseys. We will be seeing shades of vintage Dominique Wilkins, Magic Johnson, Reggie Miller, Steve Nash, and Vince Carter as the players rock the classic jerseys.  Absolutely dope.
While we knew that NIKE was going to come at us with some amazing concepts, what might have caught us most off guard was the NBA's decision to begin a three year trial period in which teams could sell sponsorship space on their uniforms. The NBA has never before allowed sponsorship logos to be placed on uniforms even though it is extremely popular in the international basketball community.  This move is certainly an attempt to increase revenue around the league, but we like what we have seen so far.  As it stands, the logos are restricted to a 2.5 by 2.5 ft patch that will be placed on the left shoulder of the new jerseys. What we don't want to see happen is the patches take over the entire jersey, as they do in soccer. The concept of team oriented jerseys is unique to American sports and that should be preserved.  At the very least, this move makes the future of NBA uniforms intriguing.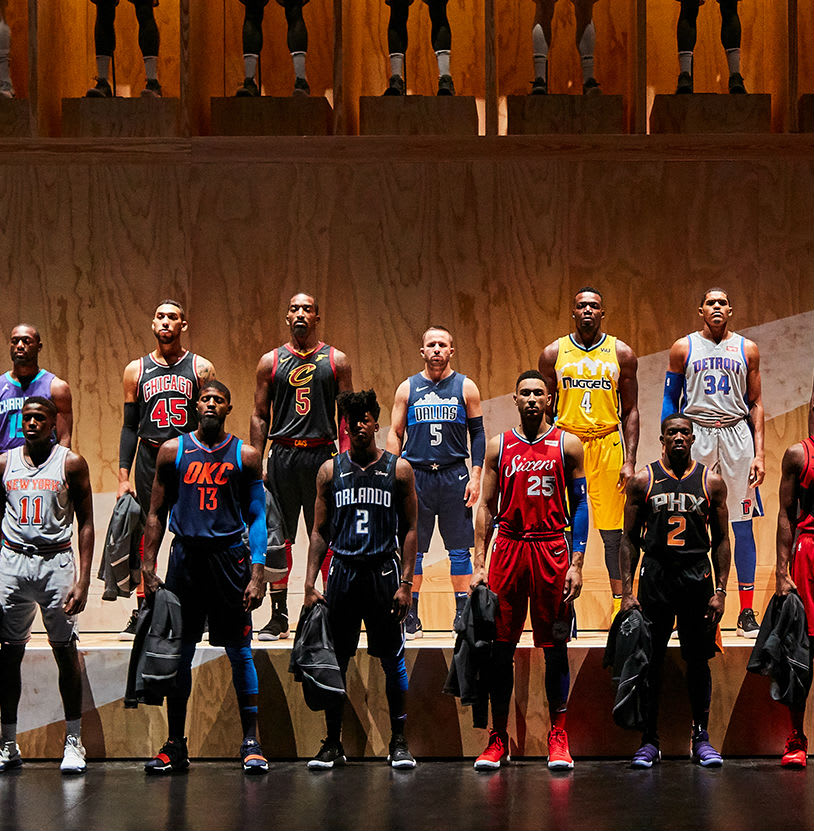 So far, 14 franchises have agreed to sell space on their uniforms.
Atlanta Hawks- Sharecare
Boston Celtics- General Electric
Brooklyn Nets- Infor
Cleveland Cavaliers- Goodyear
Golden State Warriors- Rakuten
Denver Nuggets- Western Union Bank
Detroit Pistons- Flagstar Bank
Milwaukee Bucks- Harley Davidson
Minnesota Timberwolves- Fit-Bit
Orlando Magic- Disney
Philadelphia 76'ers- Stubhub
Sacramento Kings- Blue Diamond Almonds
Toronto Raptors- Sun Life
Utah Jazz- Qualtrics (5 For The Fight Charity)